Women's Health (January / February) 2015
I'm not about the biggest and the best
I'm about enjoying my life, more than anything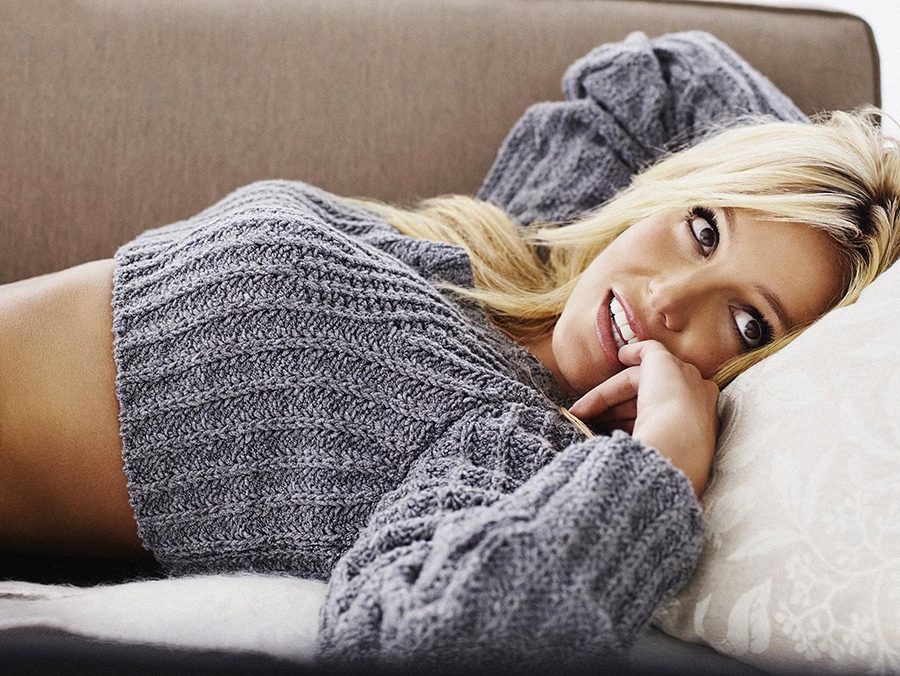 Stronger
Than Yesterday
(or Ever!)
It's Britney, bitch! In the best shape of her life, no less. And-true story-she sculpted this body without a personal trainer or diet coach. Steal a page (or two) from the singer's workout journal and unleash your own kind of fierce.
By Lori Majewski

Let's be honest: Most ofus have been watching Britney Spears grow-and shrink, and grow-from the time the Mickey Mouse Club star gave the world a glimpse ofher teenage tummy in the "…Baby One More Time" video 16 years ago (um, yeah, we feel old too). Since then, the native of Kentwood, Louisiana, has had babies of her own (Preston, 9, and Jayden, 8; their father is ex-husband Kevin Federline), and her body has gone back and forth between MTV-ready and mama-real.
But before Britney's arrival at the set ofher Women's Health photo shoot, herlongtime manager, Larry Rudolph, mentioned that she was in probably the best shape of her life, and here it is: living proof.
The 33-year-old's abs are enviablycut; her arms, sculpted; her legs, lean and defined. And while the petite powerhouse (she's 5'4″) is not the biggest fan ofher behind-"I wish it were smaller," she tells us-most women probably wouldn't mind trading tushes.
It seems that lately Brit's been listening to some of her own lyrics: "You wanna hot body/Look hotin a bikini/You better work, bitch!" Even during a five-week break from her Piece of Me show-her several-nights-a-week residency at Planet Hollywood Resort and Casino in Las Vegas that will last at least through September 2015-she's kept up her turbocharged fitness regimen. (And all this while simultaneously launching a new sleepwear line and promoting her 17 fragrances; her latest, Fantasy Stage Edition, marks 10 years in the beauty biz.) "After I had Jayden, it was real easy for me to get backing shape," she says. "But five years later, I started noticing changes in my body. My hips are a little bit wider because I've had kids. So it was crucial for me to be continuous with my exercise. Consistency is key."
This is where we usually tell you the name of the fabulous L.A.-based personal trainer Britney hired to put her through some hellacious boot camp. Not this time: Outside of attending group fitness classes and yoga sessions, the only full-time coach on duty these days is Britney. Daily exercise "is important for me both mentally and physically," she says. "I don't mind working out. Trainers keep you motivated, but I didn't have a problem being motivated." So, she figured, why not cut out the middleman? Trainer isn't the only man Britney has cut out of her life. A few weeks after this interview, she split with her boyfriend of about 18 months, David Lucado, who'd just allegedly been caught on video kissing another woman. Britney bravely kept her 90-minute all-singing, all-hoofing extravaganza on track rather than cancel some shows to cry into her pillow. "The best thing about your boyfriend cheating on you is that you get to go on another first date," she announced to a screaming Vegas audience a short while later.
That she did: At press time, Britney had been linked romantically to writer and producer Charlie Ebersol. We hope he enjoys tennis, hiking, swimming, downward dog, dancing, and traipsing around Disneyland with the kids! Britney does all that-and more-to keep herself in stage-worthy shape.
Want all the deets? Read on for the two-week workout journal the singer kept exclusively for WH, presented in her own words, plus bonus snippets from her on-set interview with us.
"Dancing is great cardio workout – tough nd fun at the same time."