I'm not about the biggest and the best
I'm about enjoying my life, more than anything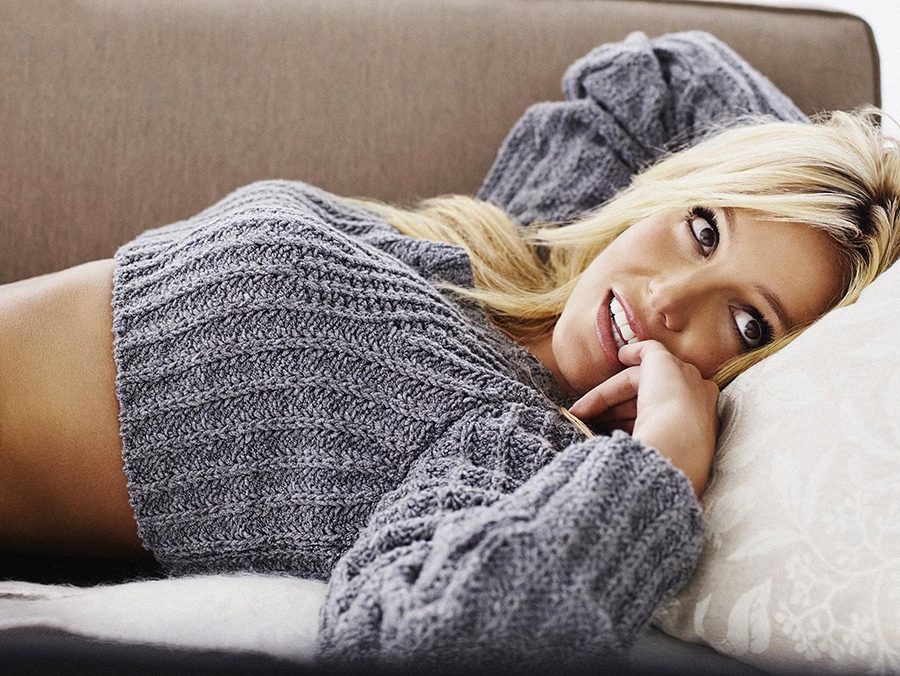 Stronger
Than Yesterday
(or Ever!)
It's Britney, bitch! In the best shape of her life, no less. And-true story-she sculpted this body without a personal trainer or diet coach. Steal a page (or two) from the singer's workout journal and unleash your own kind of fierce.
By Lori Majewski

Let's be honest: Most ofus have been watching Britney Spears grow-and shrink, and grow-from the time the Mickey Mouse Club star gave the world a glimpse ofher teenage tummy in the "…Baby One More Time" video 16 years ago (um, yeah, we feel old too). Since then, the native of Kentwood, Louisiana, has had babies of her own (Preston, 9, and Jayden, 8; their father is ex-husband Kevin Federline), and her body has gone back and forth between MTV-ready and mama-real.
But before Britney's arrival at the set ofher Women's Health photo shoot, herlongtime manager, Larry Rudolph, mentioned that she was in probably the best shape of her life, and here it is: living proof.
The 33-year-old's abs are enviablycut; her arms, sculpted; her legs, lean and defined. And while the petite powerhouse (she's 5'4″) is not the biggest fan ofher behind-"I wish it were smaller," she tells us-most women probably wouldn't mind trading tushes.
It seems that lately Brit's been listening to some of her own lyrics: "You wanna hot body/Look hotin a bikini/You better work, bitch!" Even during a five-week break from her Piece of Me show-her several-nights-a-week residency at Planet Hollywood Resort and Casino in Las Vegas that will last at least through September 2015-she's kept up her turbocharged fitness regimen. (And all this while simultaneously launching a new sleepwear line and promoting her 17 fragrances; her latest, Fantasy Stage Edition, marks 10 years in the beauty biz.) "After I had Jayden, it was real easy for me to get backing shape," she says. "But five years later, I started noticing changes in my body. My hips are a little bit wider because I've had kids. So it was crucial for me to be continuous with my exercise. Consistency is key."
This is where we usually tell you the name of the fabulous L.A.-based personal trainer Britney hired to put her through some hellacious boot camp. Not this time: Outside of attending group fitness classes and yoga sessions, the only full-time coach on duty these days is Britney. Daily exercise "is important for me both mentally and physically," she says. "I don't mind working out. Trainers keep you motivated, but I didn't have a problem being motivated." So, she figured, why not cut out the middleman? Trainer isn't the only man Britney has cut out of her life. A few weeks after this interview, she split with her boyfriend of about 18 months, David Lucado, who'd just allegedly been caught on video kissing another woman. Britney bravely kept her 90-minute all-singing, all-hoofing extravaganza on track rather than cancel some shows to cry into her pillow. "The best thing about your boyfriend cheating on you is that you get to go on another first date," she announced to a screaming Vegas audience a short while later.
That she did: At press time, Britney had been linked romantically to writer and producer Charlie Ebersol. We hope he enjoys tennis, hiking, swimming, downward dog, dancing, and traipsing around Disneyland with the kids! Britney does all that-and more-to keep herself in stage-worthy shape.
Want all the deets? Read on for the two-week workout journal the singer kept exclusively for WH, presented in her own words, plus bonus snippets from her on-set interview with us.
"Dancing is great cardio workout – tough nd fun at the same time."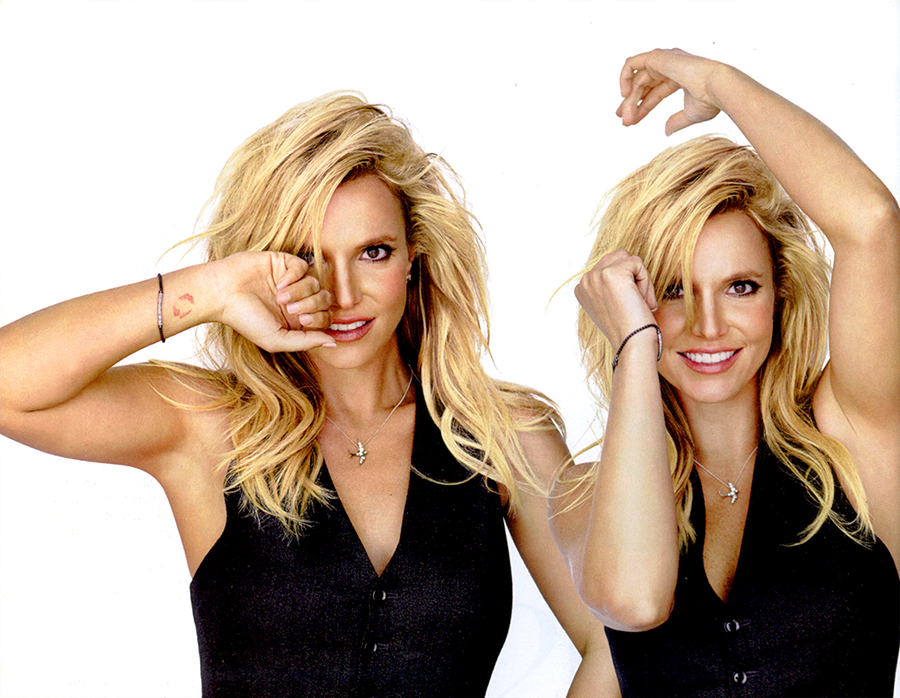 DAY 1
Cardio and light weights for 45 minutes
"Heading to my [home] gym to kick offmyweek right. I like my workouts to be effective in a short amount oftime. I start with 20 minutes of intense cardio-usuallyrunning-
move on to light free weights, body-weight exercises such as pushups, squats, and situps, then finish it off with a stretch."
DAY 2
Totally Drenchedat Drenched Fitness for an hour
"I love this class. It's high energy and combines treadmill work with circuit training. Beingin a group setting pushes me to work harder."
DAY 3
Swimminglaps for 30 minutes
"Fortylaps down! Swimming always gets my heart rate up."
DAY 4
Totally Drenched for an hour
"It's a good thing I had a smoothie for breakfast! Some days I need that extra energy to get through the third set." Britney tells us she sips a blend ofmilk, ice, and ViSalus shake mix before workouts: "It's the one protein shake that actually tastes good," she says.
DAY 5
Dance rehearsal for 90 minutes
"We're on a break from my Vegas show. I like to run through the choreography to keep it fresh in mymind. Chase and Nikky [two of mydancers] are comingover to rehearse with me."
How She Stays Fueled
"I'm really into raw food sushi, basically," says the superstar. For snacks, she reaches for Nut Thins and "any kind of fruit" preferably peaches. The one indulgence she won't ditch? "I love sweet tea!"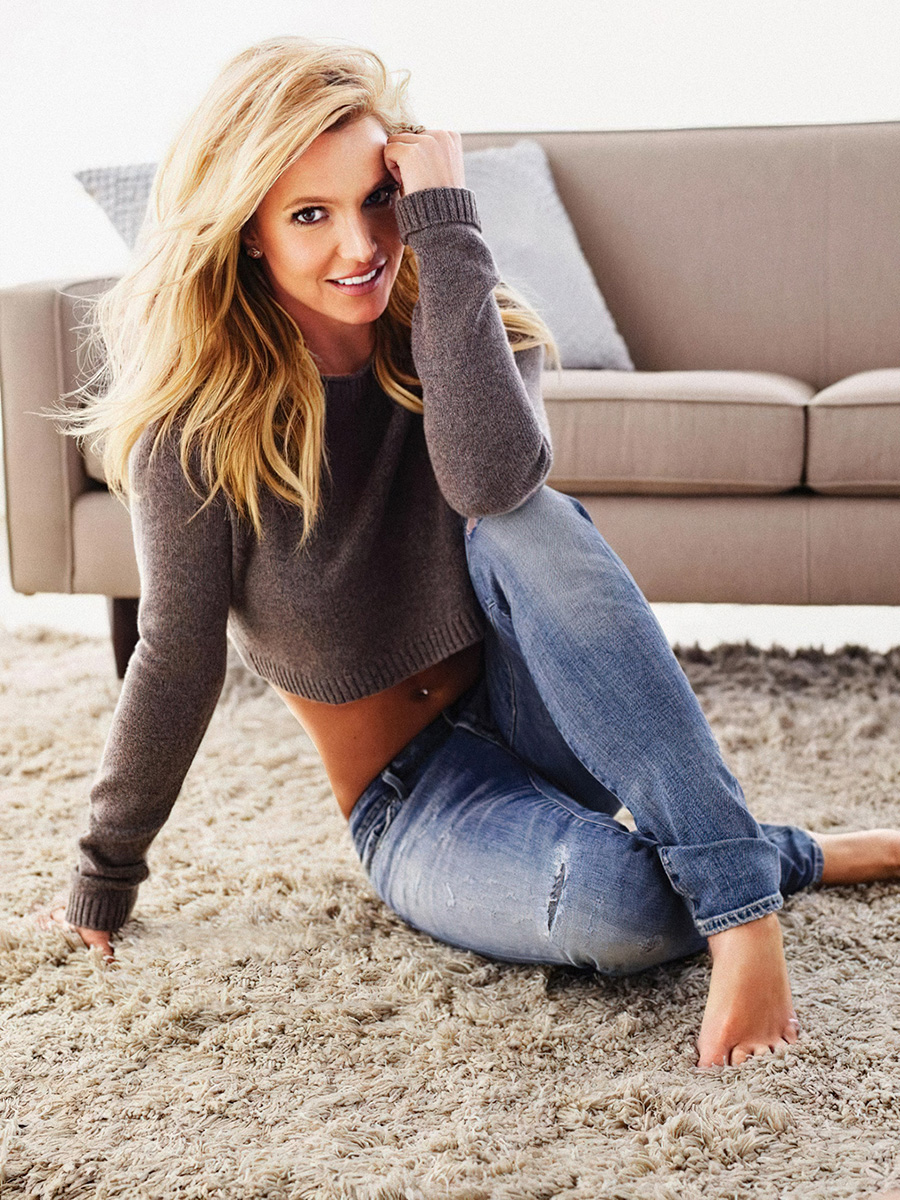 DAY 6
Totally Drenched for an hour; swimming laps for 30 minutes
"Time to kick it into overdrive: two workouts today. I feel amazing. Swimming really relaxes me after doing that super-high-energy workout at Drenched. I'm going to sleep well tonight!"
DAY 7
Light weights and cardio for 45 minutes
"Got up early and made scrambled egg whites and wheat toast before I hit my [home] gym."
DAY 8
Power yoga for an hour
"Can't wait to get my yoga on. My hamstrings were tight, so I spent a little extra time in down dog." As if you needed more proof that Brit's still got it: "My kids go to gymnastics, and the other day I was like, 'I want to see if I can still do my back handspring.'I actually did it!"
The Secret Weapon She Swears By?
The Totally Drenched class at Drenched Fitness in Westlake Village, California. "If I want to feel like I'm really sweating, that's what I do," Britney says of the 60-minute high-intensity interval training (HIIT) class created by trainer Julie Kennington. Get a taste of it with this 15-minute treadmill routine. (Go to WomensHealthMag.com/Drenched for a full-hour workout adapted for WH.)
2 MINUTES
Warm up with a walk or slow jog at a 1% incline
1 MINUTE EACH
Jog at a 2% incline
Run at a 2% incline
Fully recover (i.e., walk until your heart rate returns to normal) at a 2% incline
30 SECONDS EACH
Run an all-out sprint (i.e., as fast as you can, safely) at a 2% incline
Fully recover at a 2% incline (Note: If it takes longer than mthis to bring your heart rate down, that's fine.)
Sprint at a 3% incline
Recover at a 3% incline
Sprint at a 4% incline
1 MINUTE
Recover at a 2% incline
2 MINUTES
Jog at a 2% incline, then increase the incline 2% (i.e., 2%, 4%, 6%, 8%) every 30 seconds
1 MINUTE
Recover at an 8% incline
30 SECONDS EACH
Jog at an 8% incline
Run at a 4% incline
Sprint at a 2% incline
1 MINUTE
Recover at a 2% incline

"I MEDITATE. BUT I END UP FALLING ASLEEP! I'M EITHER GOING WILD IN MY HEAD OR I'M ASLEEP."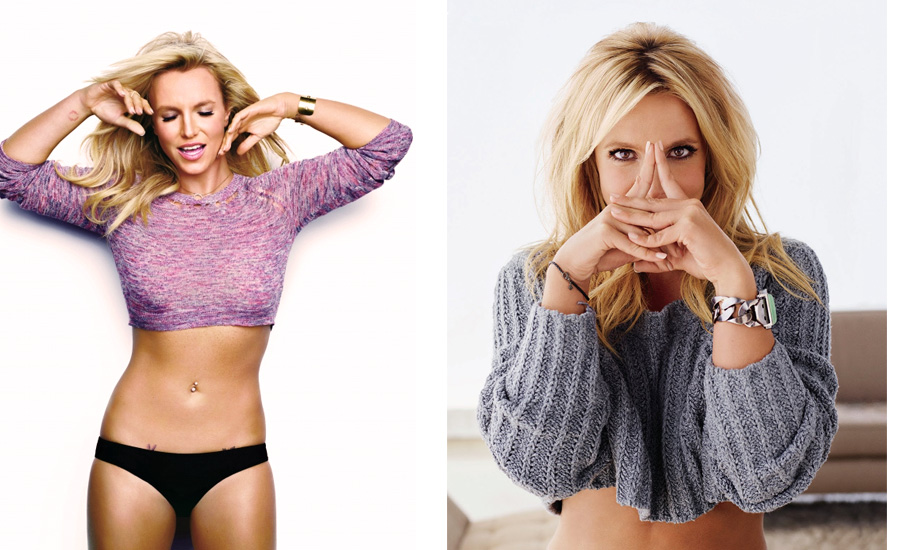 On Brit's Playlist Right Now
Beyoncé-and these
old-school artists:
Madonna
En Vogue
Snap!
Rod Stewart
DAY 9
Totally mDrenched for man hour
"I love how I feel stronger mand stronger the more I do this class."
DAY 10
Swimming mlaps for 30 minutes; hiking in Malibu for an hour
"Hitting the pool to get in my laps, then a hike in Malibu. The scenerymakes the time go by quickly. I always forget what a great workout hiking is until I get home and mylegs are sore!"
DAY 11
Totally Drenched for an hour
"Hit a wall this morning–it's been ll straight days of mworking out, and I'm tired! But I powered through the mclass and feel great."
DAY 12
Running around Disneyland with Preston and Jayden
"Stretched in my bedroom when I woke up this morning. Preparing for an entire day outdoors! Note to self: Comfortable shoes are a must on days like today."
DAY 13
Totally Drenched foran hour; swimming laps for 30 minutes
"Doing a repeat oflast Saturday's workout." We think Britney looks shredded, but she's harder on herself: "With all I'm doing, I feel I should be way more cut than I am right now. I guess you'd have to be like Madonna and workout, like, six hours a dayto be that defined!"
DAY 14
Light weights and cardio for 45 minutes
"I let myselfsleep in this morning. The busyweek and hot sun kind oftook it out of me. Looking forward to the peacefulness of my gym workout."
The Sexy List
Britney Spears shares what really turns her on.
1. The "Wicked Game" by Chris Isaak
"[It's] one of the sexiest songs of all time."
Sexy List Britney shares what really turns her on.
2. Smokey eyes
"I look younger with no makeup, but I feel more put-together when I wear some."
3. Country music
"I love Miranda Lambert and Lady Antebellum. Country is really romantic."
4. Flip-flops
"I love flip-flops, [with my toes] embracing the fresh air, being exposed to the sunshine."
5. Buttercup Corset from The Intimate Britney Spears sleepwear line
"It's feminine and feels vintage." ($79, intimatebritneyspears.us)
Win It Go See Britney in Vegas
One grand-prize reader will win a two-night stay at Planet Hollywood Resort and Casino in Las Vegas, $750 toward plane fare, two tickets to the Piece of Me show, and a meet-and-greet with Britney Spears-all worth $1,250.
Twenty-five more readers will win a 3.3-oz bottle of her Fantasy Stage Edition fragrance, each worth $57.50.
Enter for a chance to win at WomensHealthMag.com/
Piece Of Me Sweeps. See details.*